GONDRET Florence
PEGASE, INRA, Saint Gilles, France
Molecular biology, Monogastrics, Physiology
recommender, manager
Recommendation:
1
Reviews:
0
Recommendation: 1
15 Dec 2020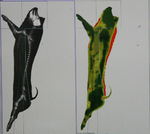 Accuracy of predicting chemical body composition of growing pigs using dual-energy X-ray absorptiometry
Accurate predictions of chemical composition of pigs for a wide range of body weights: no longer a myth!
Recommended by Florence Gondret based on reviews by

Mathieu Monziols

and 1 anonymous reviewer
Assessing body or carcass composition in growing pigs is essential to refine nutritional models, select for specific traits and evaluate pork products. The gold standard methods are dissection and chemical measurements, which are time-consuming and invasive ways to obtain the data. Different teams have tested dual-energy x-ray absorptiometry (DEXA), especially for determining total and regional body composition of fat, soft lean tissues and bone minerals [1-3]. The DEXA measurements are quick, non-invasive, precise, and operator independent. However, the instruments from different manufacturers are unique in implementation so that it is difficult to obtain and share generalized equations. In addition, the validity and accuracy of the measures when applied to pigs having very different composition have been scarcely addressed.
The present manuscript shows that carcass analysis by DEXA can be used to predict empty body chemical composition, and it provides accuracy values for the content in single nutrients (protein, lipids, Ca, P). The body weight range used to generate differences in body composition is very large (20 to 100 kg), which is important when studying pigs along growth. Moreover, regression equations within weight classes (20, 60 and 100 kg) show no important biases, with the exception for body fat especially at the earliest growth stages. Limitations of the technique are the needs of anesthesia when applied to living pigs, and of standardizing the positions of body, carcass and cuts when applied to living or dissected pigs. Another originality of the manuscript is the comparison of the obtained calibrations with previously published prediction models, showing that the differences do not preclude the possibility to use a single model when built from a meta-analysis of the different data. Taken together, this work offers good perspectives to refine nutritional models by inputs from rapidly analyzed body chemical composition and to monitor body and carcass composition in several pigs for genetics applications.
References
[1] Mitchell AD., Scholz AM., Pursel VG., and Evock-Clover CM. (1998). Composition analysis of pork carcasses by dual-energy x-ray absorptiometry. Journal of Animal Science. 76(8), 2104-14. https://doi.org/10.2527/1998.7682104x
[2] Marcoux M., Bernier JF., and Pomar C. (2003). Estimation of Canadian and European lean yields and composition of pig carcasses by dual-energy X-ray absorptiometry. Meat Science. 63(3), 359-65. https://doi.org/10.1016/S0309-1740(02)00094-3
[3] Kipper M., Marcoux M., Andretta I., and Pomar C. (2018). Repeatability and reproducibility of measurements obtained by dual-energy X-ray absorptiometry on pig carcasses. Journal of Animal Science, 96(5), 2027-2037. https://doi.org/10.1093/jas/skx046 "