GONDRET Florence
PEGASE, INRA, Saint Gilles, France
Molecular biology, Monogastrics, Physiology
recommender, manager
Recommendations:
2
Reviews:
0
Recommendations: 2
10 Aug 2022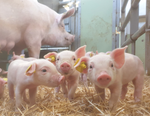 Decreasing the level of hemicelluloses in sow's lactation diet affects the milk composition and post-weaning performance of low birthweight piglets.
Varying the hemicellulose content in the diet of lactating sows highlights the importance of early-life interventions for improving health and performance of small piglets during the post-weaning period
Recommended by Florence Gondret based on reviews by

Hélène Quesnel

and

Myriam Grundy
One of the key questions in pig industry nowadays is how health and performance of piglets can be improved by sow nutrition and milk composition. The levels of dietary fibers in sow's gestation diet have positive effects observed on the litters. However, the composition of dietary fibers and the organization of polysaccharides within the cell wall in the different plants determine their physicochemical properties and, thereby, their behaviour in the gut of the sows and the subsequent physiological response of the animals. Hemicelluloses are polysaccharides constituents of the cell walls of plants, which are fermented in the gut to produce volatile fatty acids (VFA). These VFA can serve as energy source for milk synthesis and can thereby influence the development of suckling piglets. Palumbo and colleagues (1) proposed an original experimental design to compare diets with similar fiber contents but different hemicellulose levels, thanks to varying the sources of fibers used in the dietary formulations. Effects were studied on performance and health of lactating sows and their piglets during suckling period and until post-weaning. The dietary treatments had no effect on the total number of piglets weaned and, consequently, on litter weight at weaning. Milk yield was not influenced by the dietary treatments, but milk composition (lactose content, copper and threonine proportions) was affected by the level of hemicellulose in the maternal diets. With a decreasing hemicellulose level in sow diet, milk lactose content linearly decreased, whereas the copper and threonine contents linearly increased. There was no effect on piglet performance during the lactation period. During the second week of post-weaning, a quadratic increase in the incidence of diarrhoea and the number of days with diarrhoea for suckling piglets was observed with decreasing hemicellulose level in diet. Interestingly, the observed effects were partly different for piglets born with a low body weight. Indeed, there was a linear decrease in the incidence of diarrhoea and days with diarrhoea with decreased hemicellulose level in the maternal diet for those piglets, together with increased growth performance from birth to two weeks post-weaning. The authors postulated that the improved growth performance and the lower incidence of diarrhoea observed in small piglets during post-weaning period may be related to the increased abundance of threonine and copper and increased concentration of total VFA in milk of sows fed a diet with reduced hemicellulose levels. This study confirms the importance of early-life interventions to improve the post-weaning development and health of this sub-population of piglets.
Reference
(1) Palumbo F, Bee G, Trevisi P, and Girard M. (2022). Decreasing the level of hemicelluloses in sow's lactation diet affects the milk composition and post-weaning performance of low birthweight piglets. agriRxiv 2022.00116, ver 4 (R3), peer-reviewed and recommended by PCI Animal Science. https://doi.org/10.31220/agriRxiv.2022.00116
15 Dec 2020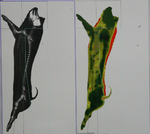 Accuracy of predicting chemical body composition of growing pigs using dual-energy X-ray absorptiometry
Accurate predictions of chemical composition of pigs for a wide range of body weights: no longer a myth!
Recommended by Florence Gondret based on reviews by

Mathieu Monziols

and 1 anonymous reviewer
Assessing body or carcass composition in growing pigs is essential to refine nutritional models, select for specific traits and evaluate pork products. The gold standard methods are dissection and chemical measurements, which are time-consuming and invasive ways to obtain the data. Different teams have tested dual-energy x-ray absorptiometry (DEXA), especially for determining total and regional body composition of fat, soft lean tissues and bone minerals [1-3]. The DEXA measurements are quick, non-invasive, precise, and operator independent. However, the instruments from different manufacturers are unique in implementation so that it is difficult to obtain and share generalized equations. In addition, the validity and accuracy of the measures when applied to pigs having very different composition have been scarcely addressed.
The present manuscript shows that carcass analysis by DEXA can be used to predict empty body chemical composition, and it provides accuracy values for the content in single nutrients (protein, lipids, Ca, P). The body weight range used to generate differences in body composition is very large (20 to 100 kg), which is important when studying pigs along growth. Moreover, regression equations within weight classes (20, 60 and 100 kg) show no important biases, with the exception for body fat especially at the earliest growth stages. Limitations of the technique are the needs of anesthesia when applied to living pigs, and of standardizing the positions of body, carcass and cuts when applied to living or dissected pigs. Another originality of the manuscript is the comparison of the obtained calibrations with previously published prediction models, showing that the differences do not preclude the possibility to use a single model when built from a meta-analysis of the different data. Taken together, this work offers good perspectives to refine nutritional models by inputs from rapidly analyzed body chemical composition and to monitor body and carcass composition in several pigs for genetics applications.
References
[1] Mitchell AD., Scholz AM., Pursel VG., and Evock-Clover CM. (1998). Composition analysis of pork carcasses by dual-energy x-ray absorptiometry. Journal of Animal Science. 76(8), 2104-14. https://doi.org/10.2527/1998.7682104x
[2] Marcoux M., Bernier JF., and Pomar C. (2003). Estimation of Canadian and European lean yields and composition of pig carcasses by dual-energy X-ray absorptiometry. Meat Science. 63(3), 359-65. https://doi.org/10.1016/S0309-1740(02)00094-3
[3] Kipper M., Marcoux M., Andretta I., and Pomar C. (2018). Repeatability and reproducibility of measurements obtained by dual-energy X-ray absorptiometry on pig carcasses. Journal of Animal Science, 96(5), 2027-2037. https://doi.org/10.1093/jas/skx046 "