ACLOQUE Hervé
Animal Genetics and Integrative Biology (GABI), INRAE, Jouy en Josas, France
Epigenetics , Genomics, Reproduction, Reproductive and developmental biology
recommender
Recommendation:
1
Reviews:
0
Areas of expertise
EDUCATION 2015 Habilitation à diriger des recherches, University of Toulouse 2004 PhD in Life Sciences obtained April 30th, 2004 (Ph.D. supervisor: Pr. Jacques Samarut) Ecole Normale Supérieure de Lyon, Laboratoire de Biologie Moléculaire et Cellulaire, France 1999 Master of Sciences (Reproduction Physiology), University Paris VI Pierre et Marie Curie, France 1998 Master (Engineer) degree in animal production science, Institut National Agronomique Paris-Grignon, France I am currently working on different aspects of human and animal biology. In collaboration with U935 in Villejuif, I coordinate a research project aiming at evaluating the effects of chronic jetlag on breast cancer progression and malignancy. I am also working on the development of a cellular platform based on pig pluripotent stem cells (PSCs) to improve genetic prediction using ex vivo phenotyping. For this purpose I am currently coordinating a national project to optimize the quality of pig PSCs for long term culture and to preserve their differentiation potential. I am also actively contributing to the FAANG initiative, an international effort to improve the genome annotation of livestock species (www.faang.org). Within this, I am deputy coordinator of GENE-SWitCH, a recently funded european H2020 project which objective is to improve the functional annotation of chicken and pig genome and its transfer to animal selection.
Recommendation: 1
09 Apr 2022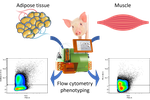 The impact of housing conditions on porcine mesenchymal stromal/stem cell populations differ between adipose tissue and skeletal muscle
Housing conditions affect cell populations in adipose and muscle tissues of pigs
Recommended by Hervé Acloque based on reviews by 2 anonymous reviewers
The adaptability of livestock to changing environments is based in particular on their genetic characteristics but also on the farming conditions to which they are subjected. However, this last point is poorly documented and little is known about its contribution to environmental challenges. The study by Quéméner and colleagues [1] addresses this question by assessing the effect of two hygiene conditions (good vs poor) on the distribution of cell populations present in adipose and muscle tissues of pigs divergently selected for feed efficiency [2].
The working hypothesis is that degraded housing conditions would be at the origin of an hyper stimulation of the immune system that can influence the homeostasis of adipose tissue and skeletal muscle and consequently modulate the cellular content of these tissues. Cellular compositions are thus interesting intermediate phenotypes for quantifying complex traits. The study uses pigs divergently selected for residual feed intake (RFI+ and RFI-) to assess whether there is a genetic effect associated with the observed phenotypes.
The study characterized different stromal cell populations based on the expression of surface markers: CD45 to separate hematopoietic lineages and markers associated with the stem properties of mesenchymal cells: CD56, CD34, CD38 and CD140a. The authors observed that certain subpopulations are differentially enriched according to the hygiene condition (good vs poor) in adipose and skeletal tissue (CD45-CD56-) sometimes with an associated (genetic) lineage effect. This pioneering study validates a number of tools for characterizing cell subpopulations present in porcine adipose and muscle tissue. It confirms that housing conditions can have an effect on intermediate phenotypes such as intra-tissue cell populations. This pioneering work will pave the way to better understand the effects of livestock systems on tissue biology and animal phenotypes and to characterize the nature and function of progenitor cells present in muscle and adipose tissue.
[1] Quéméner A, Dessauge F, Perruchot MH, Le Floc'h N, Louveau I. 2022. The impact of housing conditions on porcine mesenchymal stromal/stem cell populations differ between adipose tissue and skeletal muscle. bioRxiv 2021.06.08.447546, ver. 3 peer-reviewed and recommended by Peer Community in Animal Science. https://doi.org/10.1101/2021.06.08.447546
[2] Gilbert H, Bidanel J-P, Gruand J, Caritez J-C, Billon Y, Guillouet P, Lagant H, Noblet J, Sellier P. 2007. Genetic parameters for residual feed intake in growing pigs, with emphasis on genetic relationships with carcass and meat quality traits. Journal of Animal Science 85:3182–3188. https://doi.org/10.2527/jas.2006-590.