GONZALEZ-GARCIA Eliel
SELMET, INRAE, Montpellier, France
Agricultural sustainability, Cattle production, Grazing management , Physiology, Precision livestock farming, Ruminant nutrition, Small ruminants
recommender
Recommendation:
1
Reviews:
0
Recommendation: 1
01 Sep 2022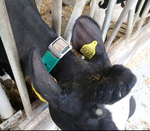 Detecting dairy cows' lying behaviour using noisy 3D ultrawide band positioning data
A novel method to monitor lying behaviour of dairy cows by combining noisy spatial positioning data, time-series segmentation based on statistical changepoints and machine learning classification algorithm
Recommended by Eliel Gonzalez-Garcia based on reviews by

Kareemah Chopra

and

John Fredy Ramirez Agudelo
Using on-farm sensors in dairy farming is known to help decision makings and farmer objectives in the monitoring and potential improvement of animal behaviour, health and production performance. However, in indoor positioning systems, data interpretation is complicated by the inaccuracy and noise in the time series, missing data caused not only by sensor failure or the harsh and changing farm environments in which they operate, but also by the animals' specific physiology itself. Thus, working with spatial data has proven challenging mainly due to their enormous heteroscedasticity, which depends on multiple factors such as the cow, the time of the day, the behaviour, factors interfering with the sensor system, etc., for which we cannot account mathematically. Applying purely black-box approaches generally results in insufficient robustness, interpretability and generalisability.
With this work, Adriaens et al. (2022) developed a relatively simple and new methodology to monitor the lying behaviour of dairy cows by using noisy spatial positioning data, while combining time-series segmentation based on statistical changepoints and a machine learning classification algorithm. The two-step methodology identifies lying behaviour using an ultra-wide band indoor positioning system. Getting-up or lying-down events were indicated by the accelerometers. Overall classification and lying behaviour prediction performance was above 91% in independent test sets, with a very high consistency across cow-days. The robustness of the algorithm was demonstrated by the fact that both the cow identity-based split and the time-based split performed equally well.
The article represents an original contribution for advancing the state of the art in the automated quantification of lying behaviour in dairy cows, aiming to monitor health or animal welfare issues. Future research must be considered however to validate the performance of the model when using different position-measuring technologies, in other farm settings and over a longer period of time.
Reference
Adriaens I, Ouweltjes W, Pastell M, Ellen E, Kamphuis C. 2022. Detecting dairy cows' lying behaviour using noisy 3D ultra-wide band positioning data. Zenodo, 6627251, ver. 3 peer-reviewed and recommended by Peer Community in Animal Science. https://doi.org/10.5281/zenodo.6627251