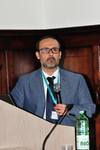 CONTE Giuseppe
Department of Agriculture, Food and Environment, University of Pisa, Pisa, Italy
Animal genetics, Animal nutrition modelling, Cattle production, Emissions , Farming systems, Genomic selection, Lactation biology , Precision livestock farming, Rumen microbiology, Rumen microbiome , Small ruminants, Statistical genetics
recommender
Recommendation:
1
Reviews:
0
Recommendation: 1
05 Jul 2022

Impact of pre-breeding feeding practices on rabbit mammary gland development at mid-pregnancy.
Managing the feeding of rabbits to improve metabolic efficiency
Recommended by Giuseppe Conte based on reviews by

Marion Boutinaud

,

Davi Savietto

and 1 anonymous reviewer
A correct execution of feeding plan for growing rabbit decreases the possibility of post-weaning digestive disorders, thus enhancing the feed efficiency in the animals. However, a limitation of feed daily quantity is required between 10 weeks of age and the first artificial insemination. This limitation causes energy deficiency with a consequent reduction in fertility. Beauvais et al. (2022) studied the impact of feed restriction strategies in female rabbits. Four feed restriction strategies were applied in two distinct periods (post-weaning and puberty) and evaluated by different physiological parameters (growth rate, metabolic profiles, reproductive parameters and mammary gland development). In the first part of the paper, the authors evaluated the association between weight slopes and feeding strategies in the late post-weaning and peripartum period in the four groups. As revealed by the authors, a significant difference was observed during the late post-weaning period, which remained significant between the pubertal and fattening phases. Probably these differences are related to the restriction feeding pattern. The results indicated that restrictive feeding changes in the first step of post-weaning period is associated with a significant difference in body weight. This difference occurs from the third week of diet, highlighting the high sensitivity of growing rabbit to nutrition during the post-weaning period.
In the second part of the paper, the authors evaluated the expression of genes involved in the lipid metabolism. During the mid-pregnancy, was revealed a significant higher expression of lipogenic genes, which may be considered as useful markers for the mammary epithelial development in less restrictive strategies during early life period.
The results proposed by Beauvais et al. (2022) enlighten the important role played by the feeding conditions of young female rabbits in the early life rearing. In particular, this activity provides specific recommendations for optimizing lactation and thus preventing neonatal mortality of the offspring. Moreover, the authors provide indications about the effect of feeding strategies on the mammary development and gene expression with absolute consequences on the development of offspring. Mammary lipid metabolism affects the milk profile and therefore the growth performance of the young animals.
Reference
Hue-Beauvais C, Bebin K, Robert R, Gardan-Salmon D, Maupin M, Brun N, Aujean E, Jaffrezic F, Simon S, Charlier M, Le Provost F (2022). Impact of pre-breeding feeding practices on rabbit mammary gland development at mid-pregnancy. biorXiv, 2022.01.17.476562, ver. 3 peer-reviewed and recommended by Peer Community in Animal Science. https://doi.org/10.1101/2022.01.17.476562