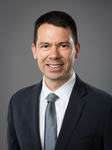 FACIOLA Antonio
Department of Animal Sciences, University of Florida, Gainesville, United States of America
Cattle production, Microbial fermentation, Ruminant nutrition
recommender
Recommendation:
1
Reviews:
0
Recommendation: 1
28 Jan 2022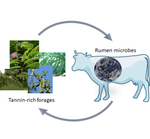 Microbial colonization of tannin-rich tropical plants: interplay between degradability, methane production and tannin disappearance in the rumen
Ruminal microbial degradation of tannin-rich tropical plants and methane production
Recommended by Antonio Faciola based on reviews by

Todd Callaway

and

Srinivasan Mahalingam
Rira et al. (2022) evaluated ruminal degradation of tropical tannins-rich plants and the relationship between condensed tannins disappearance and microbial communities. I found this study relevant because a major limitation for tropical plants utilization by ruminants is their potential reduced nutrient digestion. In this study, authors used leaves from Calliandra calothyrsus, Gliricidia sepium, and Leucaena leucocephala, pods from Acacia nilotica and the leaves of Manihot esculenta and Musa spp., which were incubated in situ in the rumen of dairy cows. An in vitro approach was also used to assess the effects of these plants on ruminal fermentation. They observed that hydrolysable and free condensed tannins from all plants completely disappeared after 24 h incubation in the rumen. Disappearance of protein-bound condensed tannins was variable with values ranging from 93% for Gliricidia sepium to 21% for Acacia nilolitica. This demonstrated some potential for selection and improvements in protein digestion. In contrast, fibre-bound condensed tannins disappearance averaged ~82% and did not vary between plants, which was remarkable. The authors noted that disappearance of bound fractions of condensed tannins was not associated with degradability of plant fractions and that the presence of tannins interfered with the microbial colonisation of plants. Each plant had distinct bacterial and archaeal communities after 3 and 12 h of incubation in the rumen and distinct protozoal communities at 3 h. This suggests a great deal of specificity for microbial-plant interactions, which warrants further evaluation to consider also animal contributions to such specificity. Adherent communities in tannin-rich plants had a lower relative abundance of fibrolytic microbes, notably Fibrobacter spp. Whereas, archaea diversity was reduced in high tannin-containing Calliandra calothyrsus and Acacia nilotica at 12 h of incubation. Concurrently, in vitro methane production was lower for Calliandra calothyrsus, Acacia nilotica and Leucaena leucocephala although for the latter total volatile fatty acids production was not affected and was similar to control. Finally, the study demonstrated that the total amount of hydrolysable and condensed tannins contained in a plant play a role governing the interaction with rumen microbes affecting degradability and fermentation. The effect of protein- and fibre-bound condensed tannins on degradability is less important. The major limitation of the study is the lack of animal validation at this stage; therefore, further studies are warranted, especially studies evaluating these plants in vivo. Furthermore, mechanisms associated with plant-microbial specificity, the role played by the host, and more data on nutrient utilization and gas production should be investigated. Nonetheless, this work show interesting microbial colonization and specific plant-microbial relationships that are novel in the ruminal environment.
Reference:
Rira M, Morgavi DP, Popova M, Maxin G, Doreau M (2022). Microbial colonization of tannin-rich tropical plants: interplay between degradability, methane production and tannin disappearance in the rumen. bioRxiv, 2021.08.12.456105, ver. 3 peer-reviewed and recommended by Peer Community in Animal Science. https://doi.org/10.1101/2021.08.12.456105