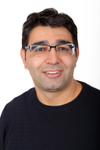 GAGAOUA Mohammed
PHASE: Physiologie animale et systèmes d'élevage, INRAE - PEGASE, St-Gilles, France
Agricultural sustainability, Biotechnology, Farming systems, Monogastrics, Open science, Small ruminants
recommender, manager
Recommendation:
1
Reviews:
0
Areas of expertise
I am a meat (food) scientist. My primary research activities on the sensory eating qualities of meat and their evaluation by consumers intend to develop a better understanding of the mechanisms underpinning meat tenderization. I work and develop statistical approaches that consider the rearing and post-slaughter practices (continuum from the farm-to-fork) that influence the conversion of muscle to meat by identifying the main drivers of the final eating qualities.
Recommendation: 1
20 Dec 2021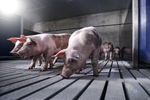 Quantifying growth perturbations over the fattening period in swine via mathematical modelling
An innovative modelling approach to enhance the quality of the quantification of pig resilience during the entire fattening period: Towards an individual pig resilience index
Recommended by Mohammed Gagaoua based on reviews by

Arata Hidano

,

Ludovic Brossard

and 2 anonymous reviewers
The identification of reliable estimates of growth potential and resilience over the fattening period in large populations is a challenge in actual swine breeding conditions. To overcome this drawback, the study by Revilla et al. 2021 in the frame of precision livestock farming aimed to propose an innovative modelling approach, in addition to previous studies from the same group (Revilla et al. 2019), to enhance the quality of the quantification of pig resilience during the entire fattening period.
The authors developed a model that quantifies an "individual pig resilience indicator" based on longitudinal data, for instance body weight, recorded routinely by a commercially available automatic feeding system. Revilla and co-workers considered in their study two mainly commercialised pure pig breeds these being Piétrain including Piétrain Français NN Axiom line (Pie NN) free from halothane-sensitivity (ryanodine receptor gene, RYR1) and Piétrain Français Axiom line positive to this gene and Duroc. Therefore, the authors investigated the potential of improving resilience of swine livestock through inclusion for the first time of an "individual pig resilience indicator" in breeding objectives. A database of 13 093 boars (approximately 11.1 million of weightings) belonging to Pie (n= 5 841), Pie NN (n = 5 032) and Duroc (n= 2 220) finished under ad libitum feeding, high sanitary level and controlled temperature was used to develop robust models.
The authors checked the three datasets (for each pig breed)​ independently to explore the variation and gaps (a data pre-treatment procedure) to ensure high quality data for the modelling approach. Then, they applied the Gompertz model and linear interpolation on body weight data to quantify individual deviations from the expected production, allowing the creation of the ABC index. For the modelling, the authors applied a two-step mathematical model approach by first establishing a theoretical growth curve of each animal, while the second step aimed to build the actual perturbed growth curve. The heritability of the index ranged from 0.03 to 0.04, with similar heritability between Piétrain and Duroc breeds. Moreover, moderate genetic relationships were computed between the proposed index and important phenotypic traits in swine production likely BF100: backfat thickness at 100kg; LD100: longissimus dorsi thickness at 100kg; ADG: average daily gain during control and FCR: feed conversion ratio.
Developing models able to capture perturbations during the fattening period is a challenge in swine breeding industry. The model and methodology proposed by the authors in this innovative work (although preliminary and with low heritabilities) would help overcome such limit and facilitate a real implementation at large scale in pig breeding system. The modelling approach further offers an opportunity to develop a selection criterion to improve resilience in swine breeding conditions.
To explore the full potential of this modelling approach, a larger database and other factors such as breed, behaviour and feeding behaviour of the animals, rearing practices, management and environment conditions, age… etc. are worthy to consider. In the future, more in depth measurements of behaviour that can be computed for example using computer vision should be desirable to increase the robustness of the proposed model.
References
Revilla, M., Friggens, N.C., Broudiscou, L.P., Lemonnier, G., Blanc, F., Ravon, L., Mercat, M.J., Billon, Y., Rogel-Gaillard, C., Le Floch, N. and Estellé, J. (2019). Towards the quantitative characterisation of piglets' robustness to weaning: a modelling approach. Animal, 13(11), 2536-2546. https://doi.org/10.1017/S1751731119000843
Revilla M, Lenoir G, Flatres-Grall L, Muñoz-Tamayo R, Friggens NC (2021). Quantifying growth perturbations over the fattening period in swine via mathematical modelling. bioRxiv, 2020.10.22.349985, ver. 5 peer-reviewed and recommended by Peer Community in Animal Science. https://doi.org/10.1101/2020.10.22.349985