GRUNDY Myriam
PEGASE, INRAE, Saint-Gilles, France
Pig nutrition
Recommendations:
0
Review:
1
Review: 1
10 Aug 2022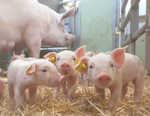 Decreasing the level of hemicelluloses in sow's lactation diet affects the milk composition and post-weaning performance of low birthweight piglets.
Varying the hemicellulose content in the diet of lactating sows highlights the importance of early-life interventions for improving health and performance of small piglets during the post-weaning period
Recommended by Florence Gondret based on reviews by

Hélène Quesnel

and

Myriam Grundy
One of the key questions in pig industry nowadays is how health and performance of piglets can be improved by sow nutrition and milk composition. The levels of dietary fibers in sow's gestation diet have positive effects observed on the litters. However, the composition of dietary fibers and the organization of polysaccharides within the cell wall in the different plants determine their physicochemical properties and, thereby, their behaviour in the gut of the sows and the subsequent physiological response of the animals. Hemicelluloses are polysaccharides constituents of the cell walls of plants, which are fermented in the gut to produce volatile fatty acids (VFA). These VFA can serve as energy source for milk synthesis and can thereby influence the development of suckling piglets. Palumbo and colleagues (1) proposed an original experimental design to compare diets with similar fiber contents but different hemicellulose levels, thanks to varying the sources of fibers used in the dietary formulations. Effects were studied on performance and health of lactating sows and their piglets during suckling period and until post-weaning. The dietary treatments had no effect on the total number of piglets weaned and, consequently, on litter weight at weaning. Milk yield was not influenced by the dietary treatments, but milk composition (lactose content, copper and threonine proportions) was affected by the level of hemicellulose in the maternal diets. With a decreasing hemicellulose level in sow diet, milk lactose content linearly decreased, whereas the copper and threonine contents linearly increased. There was no effect on piglet performance during the lactation period. During the second week of post-weaning, a quadratic increase in the incidence of diarrhoea and the number of days with diarrhoea for suckling piglets was observed with decreasing hemicellulose level in diet. Interestingly, the observed effects were partly different for piglets born with a low body weight. Indeed, there was a linear decrease in the incidence of diarrhoea and days with diarrhoea with decreased hemicellulose level in the maternal diet for those piglets, together with increased growth performance from birth to two weeks post-weaning. The authors postulated that the improved growth performance and the lower incidence of diarrhoea observed in small piglets during post-weaning period may be related to the increased abundance of threonine and copper and increased concentration of total VFA in milk of sows fed a diet with reduced hemicellulose levels. This study confirms the importance of early-life interventions to improve the post-weaning development and health of this sub-population of piglets.
Reference
(1) Palumbo F, Bee G, Trevisi P, and Girard M. (2022). Decreasing the level of hemicelluloses in sow's lactation diet affects the milk composition and post-weaning performance of low birthweight piglets. agriRxiv 2022.00116, ver 4 (R3), peer-reviewed and recommended by PCI Animal Science. https://doi.org/10.31220/agriRxiv.2022.00116