CHINCARINI Matteo
Veterinary Medicine, Università degli Studi di Teramo, Teramo, Italy
Animal behaviour , Animal cognition, Animal welfare, Small ruminants, Veterinary science
recommender
Recommendation:
1
Review:
1
Areas of expertise
Animal welfare
Recommendation: 1
27 Jul 2023

Combining several indicators to assess the effectiveness of tailor-made health plans in pig farms
Evaluating tailor-made health plans in pig farms: a multiple complementary indicators approach
Recommended by Matteo Chincarini based on reviews by

Carla Gomes

and 1 anonymous reviewer
Tailor-made health plans for farming animals, including pigs, are highly beneficial due to their customized nature, addressing the unique needs of each farm and promoting efficient husbandry practices. However, assessing the effectiveness of individualized approaches can be challenging. Levallois et al. (1) tackled this challenge by evaluating the effectiveness of tailor-made health plans of pig farms based on a systematic biosecurity and herd health audit. The study involved twenty farrow-to-finish pig farms, each receiving specific plans tailored to their specific needs. Compliance with the recommendations was monitored over an eight-month period. In the literature, various studies have delved into specific issues in detail, such as disease incidence (e.g., (2)). However, the authors of this research applied a comprehensive approach through an integrative analysis of multiple complementary indicators to provide an effective evaluation of the changes and health disorders.
The authors' holistic approach to measuring the effectiveness of tailor-made health plans is noteworthy. They employed up to seven methods to identify advantages and limitations, providing valuable insights for applied research and practitioners in the field of farm animals. Additionally, the study's inclusion of diverse farms, ranging from conventional to antibiotic-free and varying in sow breeding numbers (from 70 to 800), demonstrates the flexibility of the proposed approach, accommodating different farming systems.
The study revealed three crucial considerations for future evaluations of tailor-made health plans. Firstly, placing compliance as the primary assessment indicator is a priority. Secondly, it is essential to tailor outcome indicators and monitoring periods according to each farm's specific health disorder. Lastly, a comprehensive understanding of the health disorder's evolution can be achieved through the amalgamation of multiple indicators.
While the study does have limitations, such as the relatively short time window for assessment, the methodological framework and results are promising. Further, the discussion of the results raises several areas worthy of future investigation to improve compliance and address farmers' hesitations towards action (i.e., lack of willingness). More research in this context will be beneficial for veterinarians and practitioners, enhancing their understanding and positively impacting both farmers and animals.
In conclusion, the study underscores the significant impact of tailor-made health plans on promoting positive changes in farm management. Assessing the effectiveness of these plans enables the refinement of new strategies and enhances the overall quality of work in animal production. The study by Levallois et al (1) sheds valuable light on the challenges and potentials of such plans, providing essential insights for pig farming practices. While further research and improvements are necessary, the study strongly emphasizes the pivotal role of individualized approaches in attaining improved farm management and enhancing animal welfare.

References:
1. Levallois P, Leblanc-Maridor M, Scollo A, Ferrari P, Belloc C, Fourichon C. (2023). Combining several indicators to assess the effectiveness of tailor-made health plans in pig farms. Zenodo, 7789634. ver. 3 peer-reviewed and recommended by Peer Community in Animal Science. https://doi.org/10.5281/zenodo.7789634
2. Collineau L, Rojo-Gimeno C, Léger A, Backhans A, Loesken S, Nielsen EO, Postma M, Emanuelson U, grosse Beilage E, Sjölund M, Wauters E, Stärk KDC, Dewulf J, Belloc C, Krebs S. (2017). Herd-specific interventions to reduce antimicrobial usage in pig production without jeopardising technical and economic performance. Preventive veterinary medicine, 144:167-78. https://doi.org/10.1016/j.prevetmed.2017.05.023
Review: 1
24 Mar 2023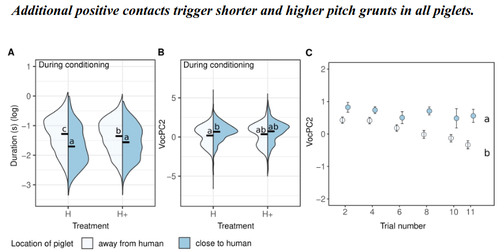 The use of pigs vocalisation structure to assess the quality of human-pig relationship
Qualitative aspects of grunts vary with pigs' mental states
Recommended by Isabelle Veissier based on reviews by

Matteo Chincarini

and 1 anonymous reviewer
Villain et al., (2023) investigated the structure of vocalisations in piglets in relation to human-animal-relationship. They first established a positive relationship by habituating piglets to be positively handled at weaning or later on after weaning. They then compared the reactions of piglets previously positively handled at weaning to that of non-handled piglets during tests in presence of a human (interacting or not), and also before and after the conditioning period when all piglets received positive contacts. They showed that the duration and frequency of grunts emitted in the presence of the human depends on previous contacts. More specifically, grunts are shorter and higher pitched in pigs that have been positively handled, in line with a positive human-animal relationship which is also observed through proximity of the piglets with the human. The authors concluded that the structure of pig vocalisation can reflect the quality of their relationship with humans.
The authors also showed that not only the response to humans is modified by positive contacts but also the general mood of piglets, with piglets positively handled at weaning emitting shorter grunts than non-handled piglets, whatever the context.
Another interesting finding is the temporality of behaviour of pigs habituated to positive contacts: during the first tests, they stay close to the human, probably being reassured by the proximity of the human. Then, when tests are repeated, they explore more the test room, using the human as an exploratory basis as already reported in the literature.
The hypotheses of the study are clear. The methods are reported in details so that the work is reproducible. The interpretation of results is sound. The manuscript is clearly written.
This paper brings new and original knowledge in the field of animals' emotional responses and human-animal relationship: on the structure of grunts in relation to positive affects (positive emotion, positive mood) and on the temporality of the responses to human presence.
I recommend this manuscript for its originality and quality.
Isabelle Veissier
Villain, A.S., Guérin, C., Tallet, C., 2023. The use of pigs vocalisation structure to assess the quality of human-pig relationship. bioRxiv 2022.03.15.484457, ver. 5 peer-reviewed and recommended by Peer Community in Animal Science. https://doi.org/10.1101/2022.03.15.484457